Finding high-quality private label manufacturers can be tough.  You are not going to find their labels or company information on the product itself.  And there is a reason for that. The brands and retailers who manage the private label product lines don't want others to know who actually made the product.  It's a big part of the "secret ingredient" of the product.
Private label manufacturers specialize in creating products for other companies to sell under their branding, including cosmetics, vitamins, and clothing products. They also offer product design, development, packaging, and distribution worldwide.
Companies must find the best private label manufacturer to establish a brand and expand a product line. The right manufacturer can significantly impact the quality of the product, the cost, and production speed. This post will provide tips and strategies to help businesses find the best private label manufacturers.
Top 5 Ways to Find the Best Private Label Manufacturers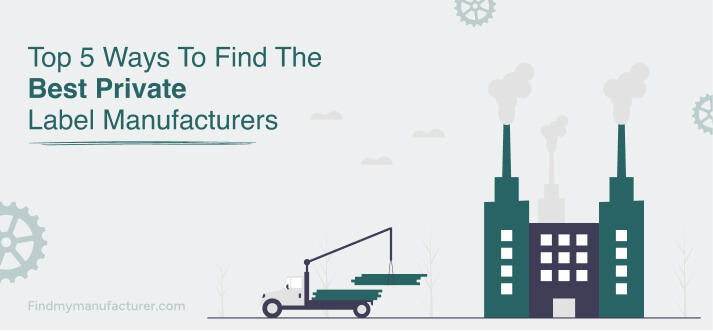 One of the biggest challenges in finding the right private label manufacturer is navigating the many options available. With so many manufacturers operating behind the scenes, it can take time to identify the most reliable and cost-effective suppliers. However, the following are some top strategies you can use to find the right partner:
Online Marketplaces
Online marketplaces like Alibaba, AliExpress, and Global Sources provide a convenient starting point to find private manufacturers globally. You can compare manufacturers' prices, production capacity, and product quality. Yet, it's crucial to do your due diligence and thoroughly evaluate potential manufacturers before making any commitments.
Online Directory
FindMyManufacturer, developed by buyers who understand the challenges of finding the right vendor, is an excellent online directory with a comprehensive list of over 18,000 legitimate and cost-effective suppliers. It helps you find private label manufacturers easily, cuts through the noise, and connects you seamlessly to your manufacturer.
Industry Associations
Industry associations such as the Private Label Manufacturers Association (PLMA) can be a valuable resource for finding private label manufacturers. These organizations often maintain directories of member manufacturers specializing in specific product categories. You can access a network of trusted manufacturers committed to upholding ethical and sustainable practices by contacting industry associations.
Trade Shows
Attending trade shows is an excellent way to meet potential private manufacturers in person. Trade shows organized by PLMA and the Private Label Expo are great for meeting potential private label manufacturers and staying current with trends and technology.
Referrals
Leveraging word-of-mouth referrals can be a highly effective approach to finding reliable private label contractors. You can join industry-specific groups and communities on social media platforms like LinkedIn, like the Private Label Manufacturers & Suppliers group, to connect with others in the industry and request recommendations from those with experience in private label manufacturing. Additionally, contacting industry contacts, business partners, or other companies with experience in private manufacturing can provide valuable insights and recommendations.
How to Contact a Private Label Manufacturer?
Once you have identified potential private contractors, the next step is to contact them and start building a relationship. Here are some tips:
Be clear and concise about your product requirements and expectations when contacting a private manufacturer. Include design specifications, production volume, and packaging requirements to help the manufacturer determine if they fit your business.
Ask questions about the manufacturer's production capabilities, lead times, quality control processes, and pricing to understand their operations better and determine if they meet your needs.
Request samples of the manufacturer's products to evaluate their quality and ensure they meet your specifications before deciding on a manufacturer.
Ask the manufacturer for references from previous clients and contact them to get an unbiased opinion of their services and quality of work.
To ensure you choose the right manufacturer for your product, evaluate samples and quotes from manufacturers based on price, quality, lead time, and customer service.
Why Should You Consider Sourcing Domestically?
When it comes to private label businesses, sourcing domestically can offer a range of benefits for businesses. Let's discuss some of the common advantages.
Improved Turnaround, Cost Savings & Streamlined Supply Chain
Sourcing domestically offers faster turnaround, cost savings, and streamlined supply chains by avoiding long transportation times and international shipping delays. Additionally, regional manufacturers enable businesses to meet tight deadlines and get products to market quickly, leading to increased profitability.
Easier Verification of Manufacturer's Credibility and Reputation
By sourcing from local manufacturers, businesses can easily verify the credibility and reputation of their contract manufacturing partners. Since domestic manufacturers are easier to access and research, businesses can check their backgrounds and read customer reviews to ensure they are reliable and trustworthy partners.
Assuring Quality Control, Regulations & Consistency
Domestic sourcing can ensure quality and consistency. Domestic manufacturers are subject to the same regulations and standards as your own business. As a result, you will have more visibility into their processes and quality control measures.
Promote Local Economy & Sustainability
Sourcing domestically can support the local economy and promote sustainability. By working with domestic manufacturers, you can help support local jobs while also minimizing transportation and shipping distances.
What To Look For In A Manufacturer?
Here are ten important points to consider when selecting a private contract manufacturer: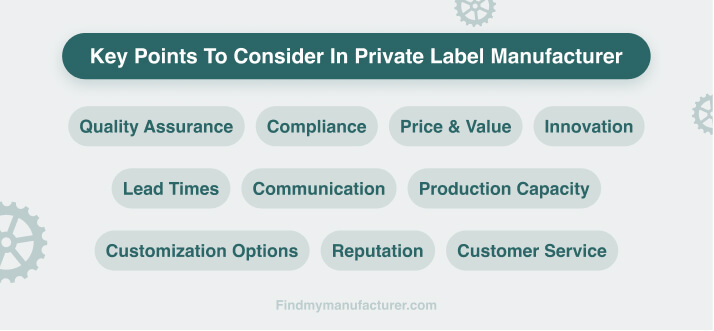 Quality Assurance: Look for a manufacturer with robust quality assurance processes to ensure your products meet your exact specifications and are safe for your customers.
Compliance: Make sure the manufacturer you choose complies with all relevant regulations and industry standards, such as FDA regulations, ISO certifications, and Good Manufacturing Practices (GMP).
Price & Value: Consider the manufacturer's pricing structure and ensure you get good value. Beware of manufacturers that offer prices that seem too good to be true, as they may cut corners on quality.
Lead Times: Check the manufacturer's lead times and ensure they can deliver products on time to meet your business needs.
Communication: Good communication is essential to a successful partnership with a private contract manufacturer. Look for a responsive manufacturer that communicates clearly and regularly throughout production.
Production Capacity: Ensure that the manufacturer can handle the volume of products you need and has the necessary resources to scale up production as your business grows.
Customization Options: Consider a manufacturer that can customize products to your specifications to create a unique product that sets you apart from the competition.
Reputation: Look for a manufacturer with a solid reputation in the industry and positive reviews from other customers.
Customer Service: Choose a manufacturer that provides excellent customer service and will work with you to address any issues.
Innovation: Consider a manufacturer willing to innovate and stay updated with your industry's latest trends and technologies.
Download The Checklist For Your Next Private Label
List of Popular Private Label Product Ideas
The potential for private label products is limitless and can be expanded as far as your imagination and ingenuity allow. Don't hesitate to sell private label products unique to your brand and vision. Following are some popular product ideas for businesses: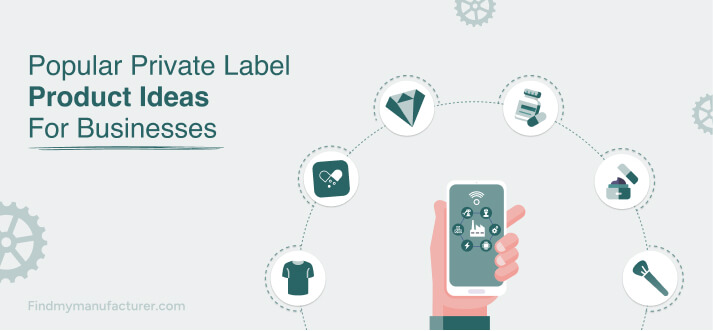 Conclusion
Finding the most suitable private contractors is critical to starting a successful business, establishing a brand, and expanding product offerings. In addition, businesses can benefit from increased customer satisfaction, brand loyalty, and market success by choosing the right private manufacturer. Hence, you must invest time and resources in selecting the best private manufacturer for your business.
Frequently Asked Questions
What is the difference between private label and white label products?
Private label products are made exclusively for one brand. In contrast, white label products are made by a manufacturer and sold under different brands.
How can finding the best private label manufacturers help me start selling my branded products online?
Working with the best private label manufacturers can help you develop high-quality products that meet your unique specifications, giving you a competitive edge in the online marketplace. In addition, it can help you attract and retain customers, build your brand, and increase online sales revenue.
How can I find the best private label manufacturers to help me grow my online business as a business owner?
You must research and do due diligence to find the best private label manufacturers. Platforms such as FindMyManufacturer can be a valuable resource if you would like assistance from a third-party service in helping you contact a manufacturer. These platforms provide a curated list of manufacturers. As a result, they can assist you in connecting with the appropriate manufacturer for your product.
Can working with the right private label manufacturers help me sell products through my ecommerce business?
Yes, partnering with the right private label manufacturers can help you develop and produce high-quality products that can be sold through your ecommerce business.