Connecting Buyers Private Label Manufacturers
Turning Ideas into reality
Connecting Buyers with Private Label & Contract Manufacturers
The Find My Manufacturer platform was developed by buyers, as we know how hard it is to find the right vendor. We cut through the noise and get you to your manufacturer seamlessly. Finding private label manufacturers is challenging as most private label manufacturers tend to operate  behind the scenes.  They are the unsung heroes of manufacturing.  Because they work in the background, they are not found easily.   It's not their logo,branding, or label found anywhere on the product.  How does someone working behind the curtain find new opportunities to work with new clients?
Find My Manufacturer makes it possible for buyers and private label manufacturers to connect all in one place. Buyers search by category or product type and immediately get a list of vendors with information on their manufacturing capabilities, minimums, certifications, and other criteria.  Contact one or all of them, all from one site.
Browse Popular Private Label Manufacturing Categories
What Makes Find My Manufacturer Stand Out?
Global Reach
Our directory has companies located across the globe. Many of them have international reach.
Tailored for Buyers
We make it easy for global companies to find the providers they need.
Searchability
Companies can list products and other capabilities. Other directories don't provide this type of detail.
Large Network
Because the site is backed by the largest LinkedIn group in the category, we can cross promote.
Easy to Connect with Buyers
We make it easy for buyers to reach you with the contact form right on the page.
Comprehensive
Covers services providers as well, to help get products made from design to fulfillment.
How your business can benefit from being featured on our private label manufacturers listings?
The Find My Manufacturer platform was created by buyers with a singular goal in mind: to make it easy to find and compare vendors, read their profiles, and contact them right away. 
Business shoppers are now searching online for vendors, much like they do for personal shopping. This means private label manufacturers need an easily searchable, accessible online presence.  Find My Manufacturer is making it easy for private label manufacturers to be found online, based on categories and products manufactured. 
Connecting buyers and vendors with this streamlined approach is a win-win for businesses across the board.
Frequently Asked Questions
What is Private Label Manufacturing?
 In Its most simple form, Private label manufacturing is a business model where a manufacturer produces products for another company to sell under its own brand name. In this model, the manufacturer handles the manufacturing, packaging, and labeling of the products, while the company that owns the brand is responsible for marketing, sales, and distribution.
What are the advantages of working with a private label manufacturer?
Private label manufacturing can be beneficial for both the manufacturer and the company that owns the brand. For the company that owns the brand, it can mean access to high-quality products without having to invest in their own manufacturing facilities and equipment.  For the manufacturer, it can mean a steady source of revenue and the ability to utilize excess production capacity. 
Working with a private label manufacturer can offer advantages such as cost-effectiveness, quality control, time-saving, brand differentiation, flexibility, and reduced risk. It can be a smart way for businesses to produce high-quality products under their own brand name and differentiate themselves from competitors.  Brands often use private label products to expand their product line, serving their customer base more fully.
What are examples of private label categories?
Examples of private label manufacturing include grocery store brands, where the retailer contracts with a manufacturer to produce products under the store's own brand name. Private label manufacturing is also common in beauty, personal care, supplements, and vitamins, where retailers and brands may offer their own branded versions of popular products.
How do I choose a private label manufacturer?
Choosing the right private label manufacturer is critical for the success of your business. Due diligence is important as these products will fall under your brand. Things to consider are years in business, expertise, client list, production capacity, quality control, customization options, pricing, communication, and location. Look for a manufacturer that can meet your specific needs and provides high-quality products while maintaining good communication to ensure a successful partnership.
What kind of products can private label manufacturers produce?
Nearly every category of product is made with private label manufacturers, including food and beverages, cosmetics and personal care, household and cleaning products, health and wellness, clothing and accessories, electronic products, and pet products. The manufacturer's expertise, resources, and production capabilities determine the products they can produce.
How does the process of working with a private label manufacturer typically work?
The process of working with a private label manufacturer typically involves product development, order placement, production, quality control, shipping and delivery, and sales and marketing. The process can be customized to meet the specific needs of the business and the product being produced.
Can I customize the packaging of my products?
Many private label manufacturers allow full customization of the packaging.  And many private label manufacturers have relationships with leading packagers to help you promote a product according to your brand. This can include designing and printing custom labels, choosing the size and shape of the packaging, and selecting the materials used. Custom packaging can help your product stand out on store shelves and reinforce your brand's identity. The manufacturer can work with you to ensure that the packaging meets your specific requirements and is compliant with any relevant regulations.
The latest articles about the manufacturer market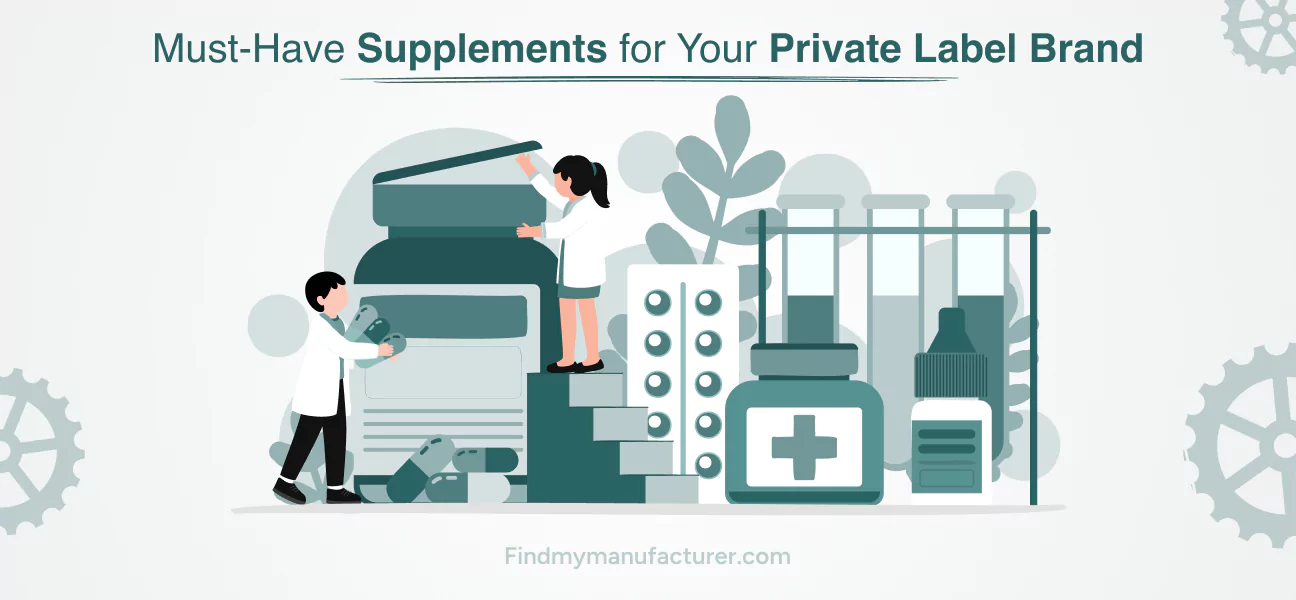 Over the last few years, the consumption of dietary supplements has experienced a remarkable surge in popularity. Factors such as an aging population, rising health awareness,...
read more