Connectiing Buyers With Contract Manufacturers
Turning Ideas into reality
Connecting Buyers with Contract Manufacturers
The Find My Manufacturer platform was developed by buyers, as we know how hard it is to find the right vendor. We cut through the noise and get you to your manufacturer seamlessly. Finding contract manufacturers is challenging as most contract manufacturers tend to operate  behind the scenes.  They are the unsung heroes of manufacturing.  Because they work in the background, they are not found easily.   It's not their logo,branding, or label found anywhere on the product.  How does someone working behind the curtain find new opportunities to work with new clients?
Find My Manufacturer makes it possible for buyers and contract manufacturers to connect all in one place. Buyers search by category or product type and immediately get a list of vendors with information on their manufacturing capabilities, minimums, certifications, and other criteria.  Contact one or all of them, all from one site.
Browse Popular Contract Manufacturing Categories
What Makes Find My Manufacturer Stand Out?
Global Reach
Our directory has companies located across the globe. Many of them have international reach.
Tailored for Buyers
We make it easy for global companies to find the providers they need.
Searchability
Companies can list products and other capabilities. Other directories don't provide this type of detail.
Large Network
Because the site is backed by the largest LinkedIn group in the category, we can cross promote.
Easy to Connect with Buyers
We make it easy for buyers to reach you with the contact form right on the page.
Comprehensive
Covers services providers as well, to help get products made from design to fulfillment.
How your business can benefit from being featured on our contract manufacturers listings?
The Find My Manufacturer platform was created by buyers with a singular goal in mind: to make it easy to find and compare vendors, read their profiles, and contact them right away. 
Business shoppers are now searching online for vendors, much like they do for personal shopping. This means contract manufacturers need an easily searchable, accessible online presence.  Find My Manufacturer is making it easy for contract manufacturers to be found online, based on categories and products manufactured. 
Connecting buyers and vendors with this streamlined approach is a win-win for businesses across the board.
Frequently Asked Questions
What is contract manufacturing?
Contract manufacturing is a business model where a company outsources the production of its products to a third-party manufacturer, known as a contract manufacturer. The contract manufacturer is responsible for manufacturing the product according to the specifications provided by the client company. This can include procuring the necessary raw materials, product design as well as manufacturing the product. The client company then sells the finished product under its own brand name. Contract manufacturing allows companies to take advantage of the specialized knowledge and expertise of third-party manufacturers, reduce costs associated with production, and focus on their core competencies, such as research and development, marketing, and sales.

What makes a good contract manufacturer?
A good contract manufacturer should have relevant experience, processes and machinery, regulatory compliance, and effective communication and collaboration. They should deliver high-quality products that meet industry requirements and standards while being a reliable, cost-effective, and flexible partner.
What types of products can be manufactured by contract manufacturers?
Contract manufacturers can produce a wide range of products depending on their expertise and the industries they serve. Some common examples such as Electronics and technology products, medical devices, Pharmaceuticals, personal care products, food and beverage products, automotive and aerospace components, Industrial and commercial products, Clothing and textiles, etc.
What are the benefits of using a contract manufacturer?
Using a contract manufacturer can provide several benefits for companies, including expertise, scalability, reduced risk, faster time-to-market, and the ability to focus on core competencies.
How do I choose a contract manufacturer?
To choose a contract manufacturer, research and evaluate their capabilities, check their reputation, assess their pricing, and negotiate terms. It's important to have a clear understanding of your product's needs and to choose a manufacturer with experience and expertise in producing similar products.  It's also recommended that you have an understanding of the project before outsourcing manufacturing.
How can I ensure quality control when working with a contract manufacturer?
Ensure quality control is a crucial aspect when working with a contract manufacturer. Afterall, your logo will be on the finished product.  You will need to establish quality standards, conduct inspections, perform a final inspection, request product samples throughout the process, verify certifications, and maintain open communication.
What is the difference between a contract manufacturer and an original equipment manufacturer (OEM)?
The key differentiator between a contract manufacturer and an original equipment manufacturer (OEM) is that a contract manufacturer produces products on behalf of companies based on their design and specifications, while an OEM designs and manufactures products that are marketed under its own brand name. Essentially, a contract manufacturer manufactures products on behalf of other companies, while an OEM produces products under its own brand name.
The latest articles about the manufacturer market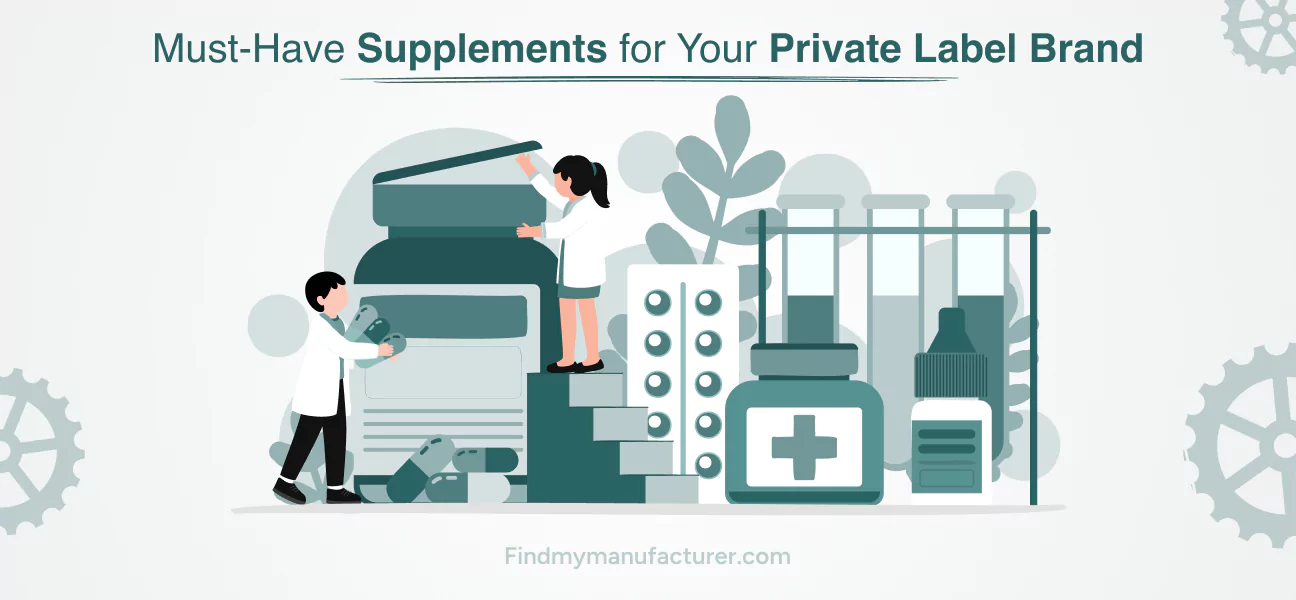 Over the last few years, the consumption of dietary supplements has experienced a remarkable surge in popularity. Factors such as an aging population, rising health awareness,...
read more